Discipleship Heresy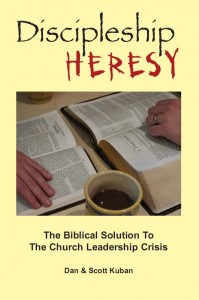 Does your congregation lack spiritual depth?
Is your church leadership overwhelmed?
Why are training efforts so ineffective?
Across the country, churches of all sizes are struggling with a shortage of lay leadership. Without enough mature believers to help meet the growing needs of the congregation and the community, pastors are facing burnout. Disciples of Christ are called to serve alongside staff in many roles including prayer teams, service setup, small group leaders, mission trip organizers, children's church teachers, youth leaders, elders, and more! This book will investigate the biblical solution to the crisis facing the church today. You will discover:
How Jesus trained His disciples.
How the Apostles trained early church leaders.
The practical applications of effective discipleship.
Start the transformation from a flock of followers to mature, multiplying disciples today!
Available at Amazon & Barnes & Noble – contact us for volume discounts.